Google Maps Widget allows you to customize pins used for showing a location on a map. Since Google has made several restrictions in its mapping technology, it's important to know a few details when customizing pins.
Thumbnail map:
When customizing pins for the thumbnail map, you have three different options to choose from:
Predefined by Google (default) – choose pin color, size, and one-letter label
Pins Library – choose one of more than 1500 pins we have created for you
Custom Image – enter the full URL of a public image anywhere on the Internet

Please note that pins from the library and custom image pins will not work if you're using the plugin on a localhost or a secure only (HTTPS) server.
Multiple Pins:
If you are using multiple pins feature, you will get different pin options. If you open the Pins tab and edit any of the locations, you will get the following options:
Thumbnail Pin Color – you can only choose a pin color for the thumbnail map
Interactive Pin – choose any pin from the Pin Library or use any uploaded custom image from the Media Library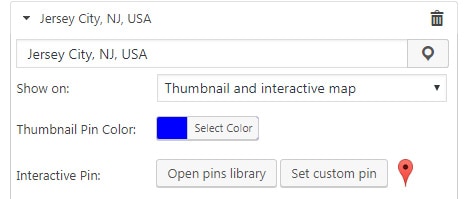 Documentation didn't help? Contact support!
Customers who purchased and have a valid PRO license, those who donated or are on trial - contact our support via email. Either email us from the address you used when purchasing, or include your license key in the email. This speeds things along.
Using the free version? We have you covered too. Head over to the forums. First look at older threads and if you don't find anything useful open a new thread. Support is community-powered so it can take some time to get an answer. If you need premium support this second - upgrade to PRO.