Every blog or business on the Internet demands a kind of marketing services that will support the relationship with readers and customers. It is impossible to grow a business without providing accurate information on time and presenting products in the modern and comprehensive way. Without paying a lot of attention to the market's demands, the rating can decrease, and all previous effort might be in vain.
#Emails are still a crucial part of a successful #business, so make sure to get the best out of them with @Designmodo Postcards

Customizable HTML email templates will keep your campaigns responsive in short. More signups will help you to expand your audience through social networking. Information does matter but how it was presented plays a significant role. It is common nowadays to have an access from every device, and your emails are supposed to look great on each of them. Turn to your experience and analyze comments and feedbacks. Find out what is good, what is to be changed or improved, and how in the best and fastest way to do it.
Real-time reports track your success. Keep them in mind, and you will easily understand what can change your campaign and move it forward. Email campaigns include subscribers, people who do want to know what you are up to, what is new, or simply to take advantage of some special offer or promotion. Every one of them is a potential customer.
Postcards' Super-intuitive Template Generator
Planning to run a business seriously means to have a perfect HTML email template ready to use. You do not have too much time to create them, but you need professional and fast emails. Forget about coding skills since there are simpler ways to create and edit templates online. We have tested an interesting application called Postcards from Designmodo, and so far we can rate it 5 stars.
Super-intuitive template generator contains necessary tools to enable you fast creating of custom emails. If you have intended to change something soon, the holiday season at its beginning is about the right time. Be optimistic and try something new and inspirational that can release your own creativity. More than 70 components include:
Drag & drop builder – outstanding pre-designed blocks
Visual editor – here you can change all kind of content (links, images, and texts). It is recently added feature that enables live editing
Upload or use external images – both are possible, and it works with any email service provider (ESP)
Double preview – desktop and mobile browsers differ, and for that reason, it is important to preview the result before you complete the design.
Unlimited export – if your business demands a variety of email templates or you personally prefer to use more of them, take advantage of unlimited export. Create and export emails freely
Direct email templates preview from the client is soon to be possible.
Start your own design
We have introduced the basic options of Designmodo's Postcards application, but the picture is much bigger, and the best is if you take a free trial. You can start your design and check how it works in minutes and make your own opinion about the variety of possibilities – from changing backgrounds and patterns to organizing the content, and including a call to action.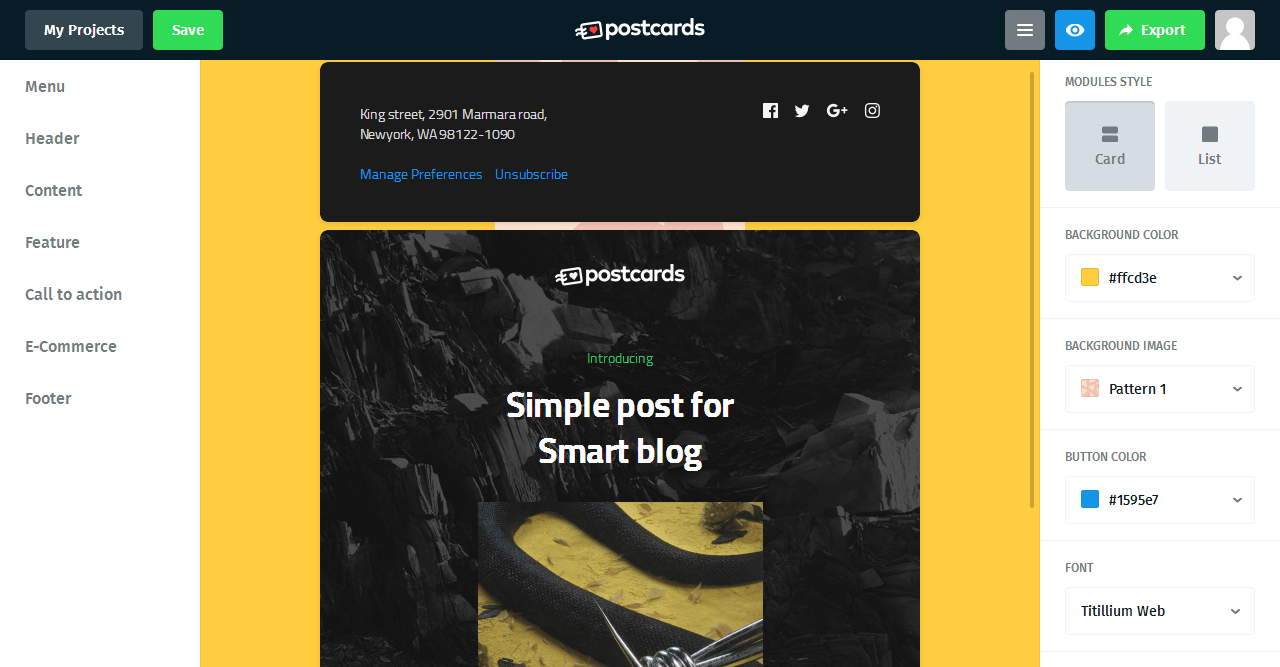 On the left side, you will find a structure for the HTML email template while on the right side you can change its appearance until you find exactly what you are looking for.
Recognizable identity on every screen
Not every design looks great on every screen, but with Designmodo's app, there is no dilemma. It looks great on any screen. You can use more than 70 drag & drop components to create an amazing design that perfectly matches the identity of your company. At first glance, a reader or customer will recognize the logo, brand or product whether they receive emails through social networks or some ESP. Over 800 Google fonts are at your disposal to choose from.
This is far more than enough to find a perfect match. Retina displays do not make any troubles since the graphics are crystal clear. In this way, you can preserve the colors of your brand in every part of the design.
Of course, once you have started a new design there is no need to rush. Modular system enables you to store, arrange, and customize all options and previously made design before the final decision.
Completely responsive design options are numerous. Thousands of them have been included in a wide range of pre-made modules. The compatibility with 15+ major email clients is proven and pre-tested. It comes from the clean HTML code, and you can take it for guaranteed that Postcards' template modules are to be supported on all mobile and desktop platforms. It is utmost important since most people prefer to receive emails on their smartphones. The templates will perform smoothly and without any difficulties.
Postcards email generator contains all functions you will need to create a perfect HTML email template. After you have chosen headers and footers that represent you in the best way, you can start creating a content you wish to transfer to your audience. The menu contains buttons to profiles on the social networks. If someone wants to learn more about your blog or your business, it is only one click away.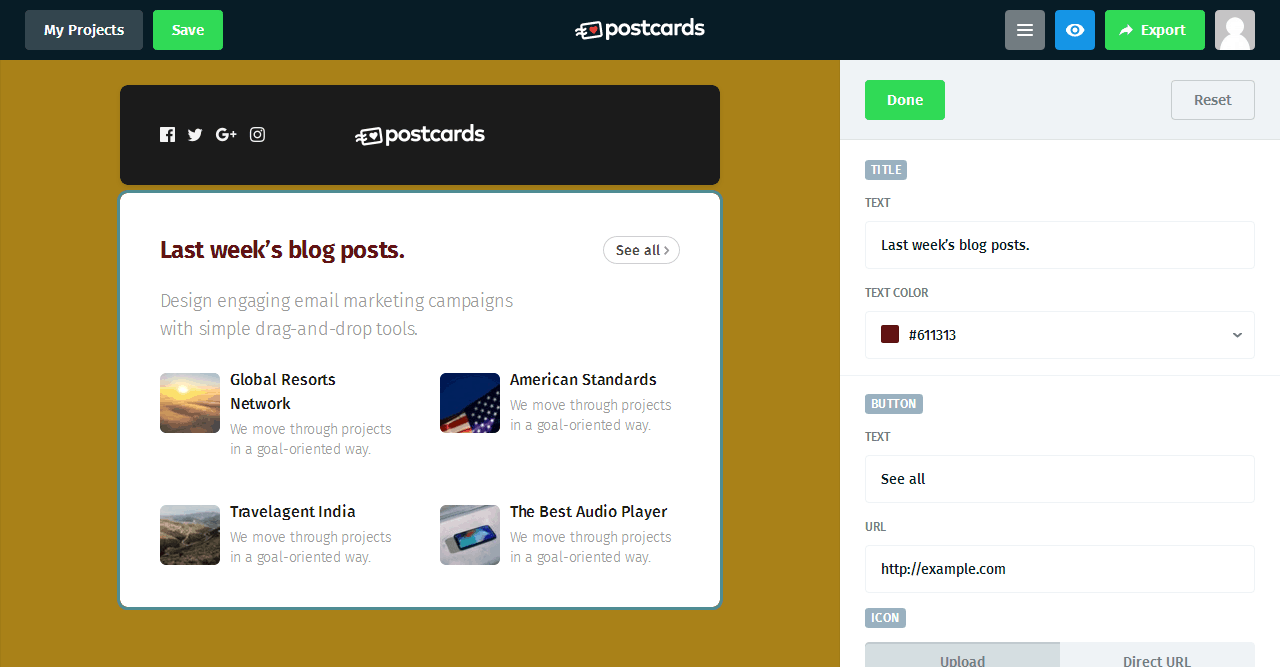 The content feature is also available in 20 different options. How you will post the content is up to you. Arrange top stories in the center and make them even more attractive by using the menu on the left side. Changing background color and image or the font is simple and easy like you are already used to do with the office programs you deal every day with. If you do not like anything which is quite impossible, upload external images. They might be a good choice for the intended purpose.
Do not hesitate to experiment since you might be surprised how some options look great on the screen. Appearance is as much important as the content itself. Working together, they occupy the attention of the readers. Click on the button in the upper right corner and edit the template using the options on the right side. Try different versions to find out what will look the best. For the technical part, you should not have to worry. Your subscribers will see the email just as you see it. There are no differences depending on the type of the device, operation system or ESP.
E-Commerce at Your Will
As soon as you have created the basic design of the HTML email template with Postcards, you can start to think about introducing the products. It is especially important to grab the attention of your audience with new arrivals, special offers, and call to action that is announcing the sale. The E-Commerce option is designed to enable you to create a catalog at your will. You can choose to display one or several items. We have chosen to show several of them.
Thinking from the customers' point of view, it is practical to compare models, prices and colors. On the right side, will you find options to change the font or button colors. Be creative and show your preferences since you have the complete freedom to run the E-Commerce according to your will.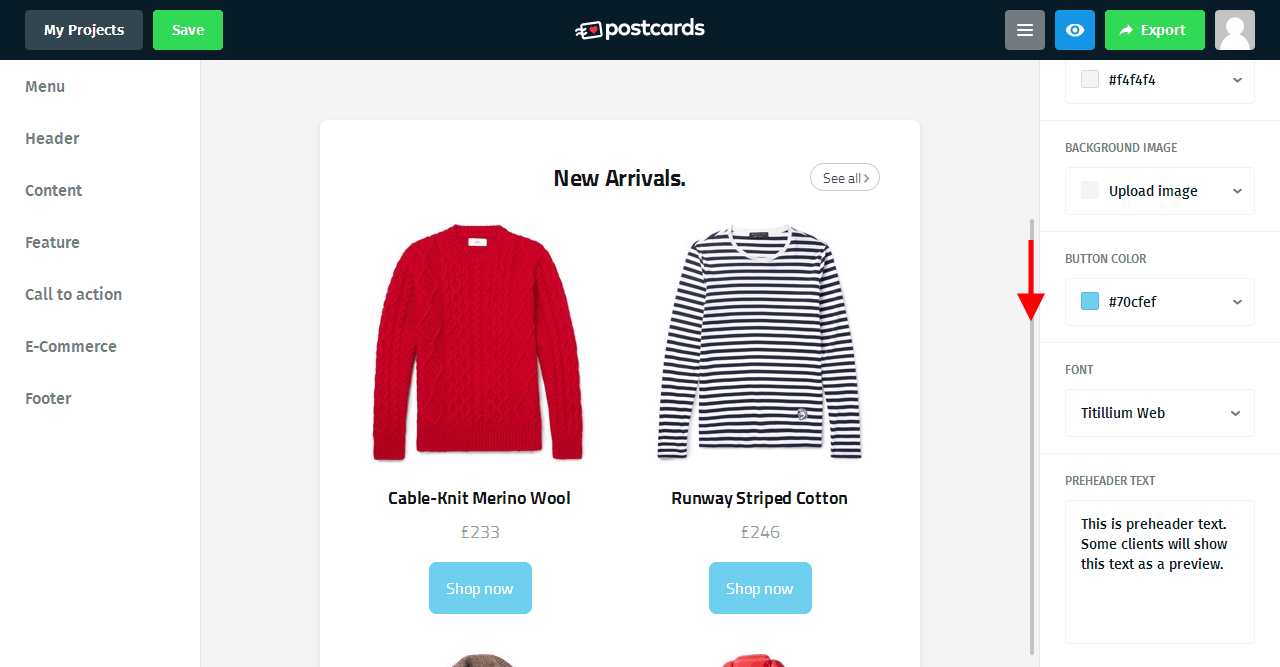 Call to action is a necessary part of every business, and in Designmodo application you have the opportunity to search among 20 different options how to throw attention of customer to a specific item, event or whatever you want to promote. For example, if you plan to enable the buy of some products for the better price until Monday, you can point out the date when the offer expires, what the benefits are, and why one should not miss clicking on the button. You can do it in many different ways, with a style that complements your business, and represents you as a reliable retailer. With the various designing options of Designmodo, there is no risk for your HTML email template to look like you only want to sell what you have too much on the stock. Call to action can also contain an invite to show some video or try the plugin.
There's even more
E-Commerce feature is soon to be enriched with one more – transactional. It would be a huge benefit to be able to trace transactions and estimate the productivity coming from the email campaign. The facts can be used for further improvement of the HTML email templates or changes on regular basis. If you think that something could have been done different or better, simply dare to try other features of Designmodo Postcards application.
Sometimes you are lucky enough to hit the target from the first try, and sometimes it takes a little bit more time and patience. However, what Postcards offers you is fast and reliable service that will enable you to spare time and create amazing HTML email templates. Demo version enables you full access to all features for free, and there is no better opportunity than to see it for yourself. Make a test, export the result, and see how it works for real.
LEAVE A REPLY