WordPress is a strong CMS platform daily used by millions of people. A variety of latest trends and helpful tools is related to this platform enabling users to enjoy many advantages. At the time your blog or business starts to grow, you'll be forced to search for adequate solutions either to solve some sudden problem or to improve a website. It will happen that time doesn't work for you, and you might be exhausted for not solving the trouble as fast as you wish.
There is a range of various options to build and develop the website, and one of these is to set up a local development environment on your own. It is a beneficial and valuable experience that can be of crucial importance for uninterrupted workflow. The biggest advantage of deploying the website locally on your computer is the opportunity to continue working without being connected to the Internet. In such circumstances poor WiFi signal, a travel or security matters aren't an issue. You can test the site, customize it in accordance with your needs, and make it more efficient before it goes live. A lot depends on your choice of the right tools.
#WP Reset plugin is a development tool for common daily users, engaged in many #WordPress environment actions since it enables faster development by a single click.

It speeds up plugin and theme testing, debugging and coding by doing triple action – controlling, resetting and restoring.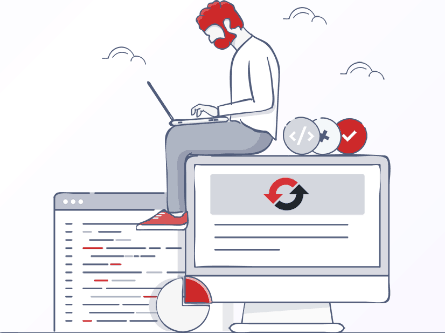 Fresh WordPress Installation without Worries
Site reset is recommended when the fresh WordPress installation is needed. There are many reasons you might wish to reset your website. Testing purposes and setting up the website from scratch are among them.
Resetting the site means taking it back to original default settings. 
It is useful if you intend to test new plugins or themes. In that case, deleting the installation and re-installing WordPress doesn't make a lot of sense. It costs time and effort and is completely out-of-date. WP Reset plugin is, fortunately, a much easier solution requiring from you only to hit the button. Some plugins have been overwhelmed with promising tools for faster development, but they are not all necessary or functional.
WP Reset plugin is empowered with the right amount of tools you need to work faster. 
The rational and seriously thought-out approach offers only the features which are helping to develop, debug and maintain a wide range of WordPress themes and plugins.
The main feature is one click site reset opportunity that couldn't be faster and easier. Fresh WordPress installation is available any time you need it after only a few seconds. Of course, some of the users prefer WP-CLI official command line tool for interaction and management of WordPress sites, and WP Reset plugin has got you covered. It is completely compatible with WP-CLI. This feature belongs to advanced ones and is mainly intended for plugin and theme developers and progressive users. With this function, there is no undo. You better be careful and if you need help, find it via wp help reset.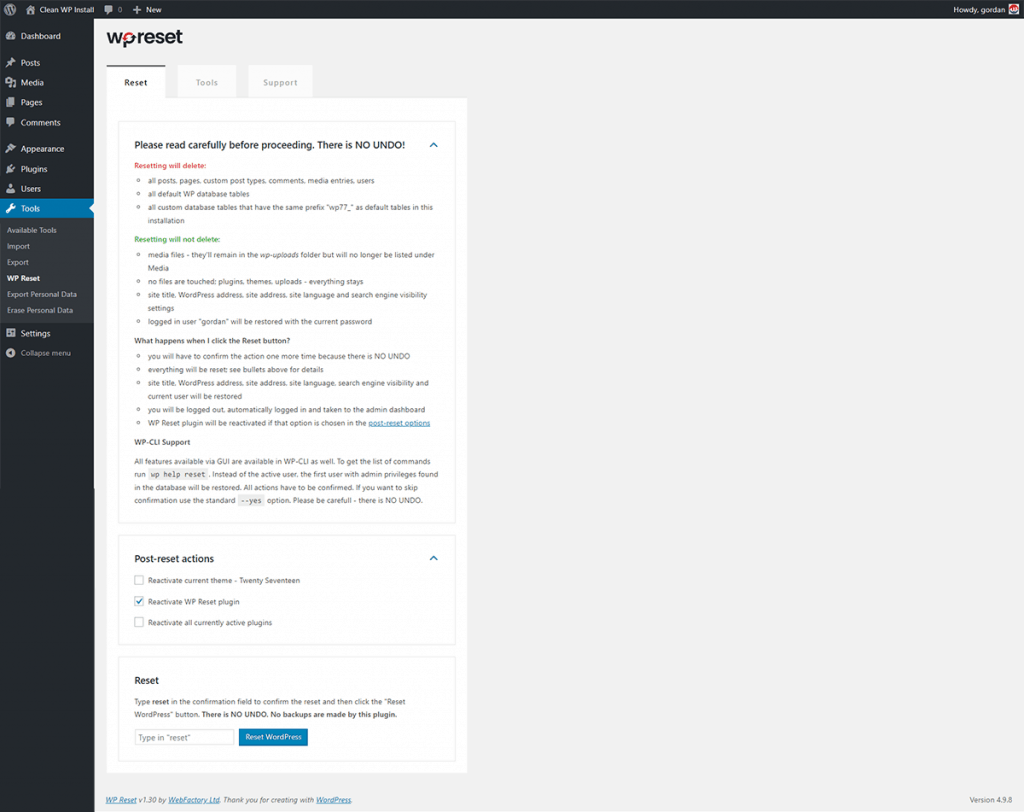 Try Out Tools on Your Own or Lean on the Professional Support
Although the plugin is built for fast and simple everyday use, if you encounter some issue you need help with, count on the free, reliable, and professional support from the people who take credit for creating this user-friendly tool. In-house Support guarantees you an immediate solution. For more information and support you can always turn to forums to share your own experience or to learn from someone else's.
After you have reset the website, no manually options setup is needed to reactivate or configure plugins and themes. You just have to know how you want the environment to look like, and WP Reset will do the job. Post-Reset setup is automatic in the case you want to reactivate current theme and plugins.
Testing often requires having some demo database or custom tables. Database Snapshots enable you to restore the installation to the chosen snapshot. It is as convenient as Database Diff Viewer which is in charge to help you find out what exactly in your database has been altered or it was under the influence of some other plugin or theme. You'll find the answer in the form of visual representation. All WordPress database tables are included in the currently used Database snapshot which is not the case with files. Snapshots can be used for backups of live websites, but there are more convenient tools for performing backups. Primer function of snapshots is to get introduced to changes of site's settings, or to those the plugin made to the database. After testing, further use is related to restore the development environment quickly. It doesn't affect other snapshots, or WP Reset settings. An average WordPress installation usually requires up to 2 seconds to create a snapshot.
One of the biggest advantages of the WP Reset plugin is that you don't need to carry out the complete reset. By using Selective Reset Tools, you can choose what to reset in accordance with your needs, from transients and plugins to your website's media. All site's information and customization have been included in the database. You can completely reset it back to its defaults, or you can delete specific content (comments, pages, users) by selecting individual tables.
Webhooks Integration considers that all WP Reset tools can be activated from the 3rd party services while you are free to ping the services by using webhooks. These two plugins are compatible, and they build a secure system in which you can initiate actions from WordPress or any other application. There is no repetitive work in this process. Hours of your time will be spared.

Upcoming Features You Have Waited for Long
While working on your website you are using plugins and themes that might help you in building and growing your business. It is a good idea to create a collection of your favorites and install them all at once after the reset. Same when you start from scratch. Instead of selecting one by one, use the Plugin & Theme Collections to spare time and effort.
You have realized until now that you can use WP Reset plugin in several different ways and preserve what you want intact. However, if you have decided to get back to ground zero, you can. Nuclear Reset enables you to have a 100% clean start! Forget about options, files, tables, and database entries. They won't be there after the reset.
A lot of users choose the same installation, plugins, and themes for multiple websites. WordPress Network (WP-MU) will reset them all up. Just think of how much time you would need to reset sites one by one. Feel free to use individual tools on network websites and do the reset from the network admin. WP Reset is currently being tested with multisite. Therefore, some precaution is recommended. Resetting sub-sites is O.K., but for the main site is better to wait for WP Reset full compatibility with WP-MU.
How Does WP Reset Work?
WP Reset plugin is fast and easy-to-use, but plugin and theme developers love it for its safety and reliability. Multiple fail-safe mechanisms completely disable the accidental data loss due to several different ways of reset confirmation. The quick reset restores the default installation parameters of the site's database. While deleting all customization and content, it doesn't modify any files. In the final result, the plugin provides debugging and speeds up testing. This comes from the simple fact that WP Reset was developed from the first-hand experience of highly skilled developers. Who would better know what do the developers need if not developers themselves? Even for those who are not developers, WP Reset offers the opportunity to train on a fresh install. Before you access the WP Reset admin page via the Tools menu be sure you have all necessary information on how it works.
Pay attention to what resetting will delete and what it will not delete or modify! Resetting will delete all default and custom WP database tables with (in wp-config.php) pre-defined prefix. All posts, pages, comments, media entries, and users will be also deleted. Contrary to that, media files remain intact in the wp-uploads folder, but you will not find them on the Media list. The same with plugins, themes, and uploads. Some other data related to the website will be restored, such as title, wp address, site address, language, and search engine visibility parameters.
Don't worry about Google! It will not forget you for a second. As for the currently logged in user, they will be restored with current log in entry. Most importantly, there is NO UNDO. Once you have clicked the reset button, you will be asked to confirm the action. Partial reset tools enable you to delete all transients related to database entries, uploads, plugins (except active WP Reset), themes, .htaccess file, and custom tables. The last can be emptied instead of deleted.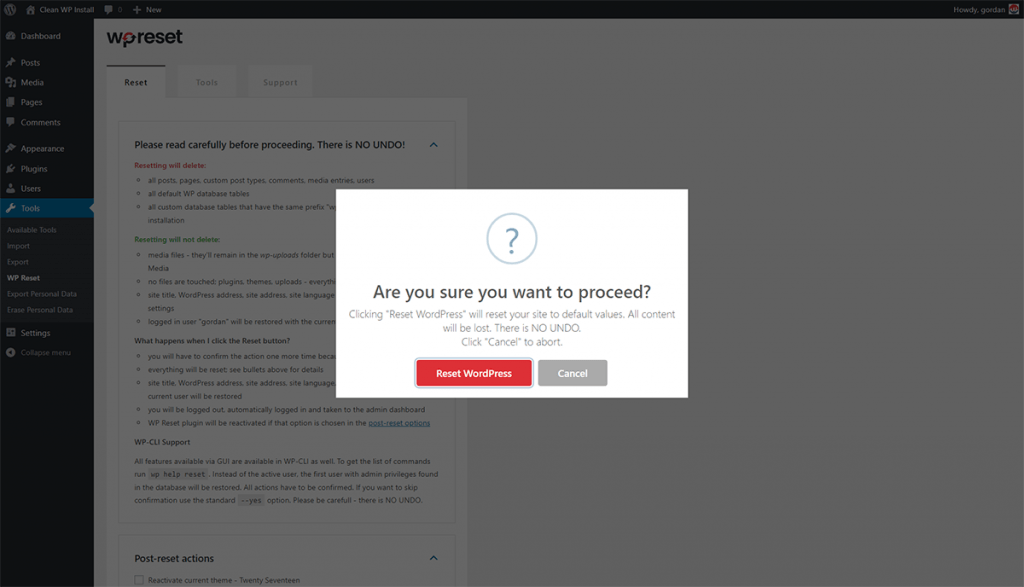 Whom Is WP Reset Created for?
WordPress site always needs more functionality to keep growing. From a simple change of design and installing of useful plugins that do the entire job for you to developers who are in charge to build and test new plugins, situation, when a fresh start is needed, is not at all rare. Changes are what moves the website forward and keep it live, attracting new users and turning them into customers.
If you are about to create something new or you simply wish to improve the website, WP Reset plugin helps you to do it almost effortlessly. Developers use the website for testing all the time, but to achieve valuable and accurate results, it is sometimes necessary to start from scratch. Besides mentioned, hacking attempts or other unfortunate issues are also the reason to use the free WP Reset plugin instead of implementing a more complicated back-up. A default state of the website provides you a clean start without previous customization and content. The plugin is quick but is still taking care of data thanks to multiple fail-safe mechanisms. In a word, the plugin is safe and effective, and that is what people like most.
Accidental data loss isn't possible, and all WP Reset features have been created with a sense for its main purpose – to help you start from scratch.
You will not find any of the unnecessary and confusing options. The good news is that you can perform the resets as many times you want if you enable WP Reset to re-open. Customize it in the post-reset settings.
Not only that WP Reset is available for free, but it is empowered with a team of experts who have developed it and know it by the book from daily experience. Guess what, In-house Support is free as well, and it can help you to overcome any potential problem you might have while resetting the website. The same team that provides reliable support is constantly working on additional features that will confirm the superiority of WP Reset in all aspects of the website reset.
Would you like to preserve plugins and themes you are well introduced to? Count on the Plugin and Theme Collections feature to enable that and on the Nuclear Reset if you prefer to start from zero. Avoid a time-consuming reset of multiple websites with the same installation, plugins, or themes settings with WordPress Network. Your network admin is in a test phase and soon to be close at hand.
In the end, developers and common user have different reasons to use WP Reset plugin. The first will be grateful for faster testing, debugging, and restoring of development environment while the others can start the website all over again and make necessary changes. Time and effort count, but getting to results faster and more easily is priceless. It offers you the opportunity to solve problems, to improve, and to start from the beginning. It is never easy but with WP Reset becomes easier.
LEAVE A REPLY